Bwindi Impenetrable Forest in Uganda
---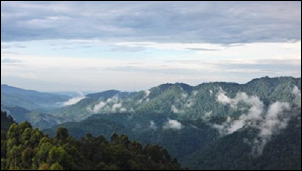 As you walk along a forest path, you'll feel the cool shade of the trees, smell the rich blend of flowers, ripe fruits, damp soil. You'll see brilliant butterflies, hear the ever-present trickle of water and the calls of birds echoing in the depths of the forest.

Bwindi Impenetrable National Park, which covers 331 square Km, is an exceptionally rich and varied ecosystem and is one of the most unique and important forests in Africa. The Park ranges from lowland to a moist tropical forest. It has remained a rainforest for millions of years, while most other African forest have come and gone through the ages. Thus, Bwindi has always been a refuge where forest species could survive.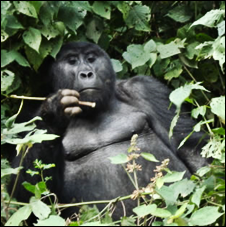 The name" Bwindi" means a place of darkness. Bwindi Impenetrable Forest is the home to three gorilla groups which have been "habituated" to human visitors: Habinyanja "A", Habinyanja "B" and Mubare.

Bwindi is one of the richest areas in East Africa for birds (350 species), butterflies (310 species), and trees (325 species). The forest is home to at least 120 species of mammals, including ten species of primates.

Bwindi is important to local communities -- it supplies the area with building materials, medicine, food, and clean reliable drinking water throughout the year. Its cultural heritage features the history, folklore and traditional healing practices of the local peoples.

People from all over the world come to Bwindi to see the Mountain Gorillas, and while revenues generated through tourism are mainly used to maintain the Park, a portion is shared with people living in the area.