The Virunga Volcanoes in Rwanda
---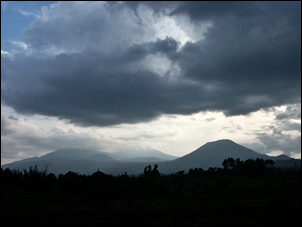 Volcanoes National Park (in French: Parc National des Volcans) lies in northwestern Rwanda, and borders Virunga National Park in the Democratic Republic of Congo and Mgahinga Gorilla National Park in Uganda. The national park is known as a haven for the Mountain Gorilla, and is home to about half the number remaining in the world.

The Park encompasses 5 of the 8 volcanoes of the Virunga Mountains (Karisimbi, Bisoke, Muhabura, Gahinga and Sabyinyo), which are covered in rainforest and bamboo. Five of the Mountain Gorilla family groups living in the wild within the Park are habituated to humans, and the work started by Dian Fossey over 40 years ago continues today.



Dian Fossey
---
Dian Fossey is known throughout the world for her pioneering research on Gorillas and their behavior. Born in California in 1937, she saw her first wild gorillas on a trip to Africa in 1963. Later, Louis Leakey encouraged Fossey to conduct a long-term study of the animals in their natural environment.

After a brief stay in the Congo, Fossey moved to Rwanda and established a research camp, Karisoke, in 1967. There, she spent years tracking Gorillas up and down the steep slopes of the Virunga Volcanoes.

It wasn't until two of her beloved gorillas, Digit and Uncle Bert, were killed in 1978 that she changed from pure scientist to active conservationist, launching an often controversial campaign against poachers. Articles in "National Geographic" magazine, television appearances, and the 1983 publication of her book "Gorillas in the Mist" (which was later made into a popular movie), focused world attention on the Gorilla's plight, but gave her little protection from the hatred of the poachers.

Fossey was found murdered at Karisoke in 1985 and was buried in the camp's cemetery next to Digit and Uncle Bert. Her epitaph reads, "No one loved gorillas more."